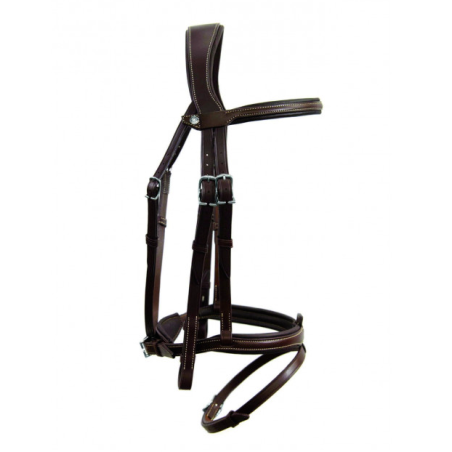  
Bridle from the Antares Origin collection, in leather with calf padding. Bridle in smooth French leather.

- The noseband is combined with a removable nose band. The noseband is padded and the buckles are protected to avoid any risk of injury.

- The headpiece is anatomic with two branches and the attachment system of the throat latch avoids any additional pressure on the top of the head.

- The mesh uprights are hooked.
MAINTENANCE ADVICE

At the reception, we advise you to try the bridle directly on your horse. If it is not suitable, it is still possible to exchange it (For all bridles over 250€, the return is free). Once the bridle is oiled or greased, we will not be able to take it back.

> Before the first use: oil your bridle generously.

> After each use: clean the leather with glycerine soap.

> Then nourish the leather regularly, with a grease or a balm once or twice a month, and don't forget to clean your bit after each session!
     
SIZE GUIDE
| | |
| --- | --- |
| Size | Height at withers |
| Poney | < 140 cm |
| Cob | 141 - 160 cm |
| Cheval / Full | 161 - 170 cm |
| Over / X-Full | > 170 cm |


*Please note that these sizes are for information only. They may change depending on the morphology of your horse.