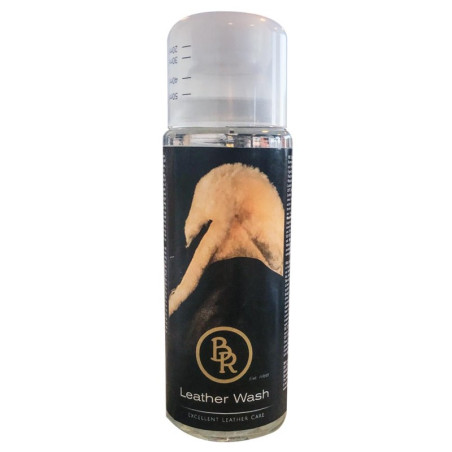  
Specially designed detergent for leather, suede, nubuck and combinations of these materials. BR Leather Wash cleans gently and cares deeply into the fibers without affecting the special properties and color of the material.
In order to preserve your bridle over time, it is essential to take care of it. The life of the leather is prolonged if it is well cared for and stored in a dry place. First, we recommend that you oil your bridles before their first use to soften and waterproof the leather. Then we advise you to clean your leathers regularly with a glycerine soap and to nourish them with a nourishing balm (once every 1 to 2 weeks depending on your use). One oiling per year is necessary, to be repeated if your leather is not flexible enough.
Application: Washing machine: Use the wool program and add 50 ml of detergent per wash cycle. Wash at 30° C maximum. (see washing label). Hand wash: Use approximately 30 ml per 10 liters of water. Immerse regularly and rinse well afterwards. Dry at room temperature, out of the sun and away from a heat source.
Shake well before use. For external use only.