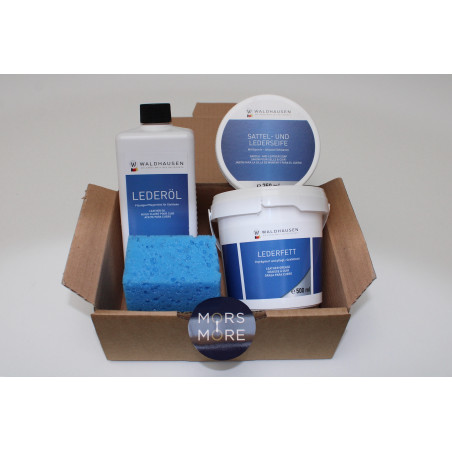  
Here is a box that will allow you to take care of your leathers.
You will find in this box: 
- Oil 500ml
- Grease 500ml
- Soap 250ml
- Sponge
To preserve your bridle over time, it is essential to take care of it. The life of the leather is prolonged if it is well maintained and stored in a dry place. First, we recommend that you oil your bridles before their first use to soften and waterproof the leather. Then we advise you to clean your leathers regularly with a glycerine soap and to nourish them with a nourishing balm (once every 1 to 2 weeks depending on your use). One oiling per year is necessary, to be repeated if your leather is not flexible enough.
Application Oil : Apply a thin and uniform layer on the clean and dry leather with a brush and let it work well. If necessary repeat the treatment several times until the leather is saturated. Carefully treat seams and cut edges, then buff leather with a soft, dry, clean cloth. Shake well before use. For external use only. 
Use: Before first use of new leather, repeated once a year depending on your use. 
Soap application: Clean the leather with the soap using a damp sponge. Wipe off excess with a clean, dry cloth. 
Use: Once a week depending on your use.
Grease Application: Apply a thin, even coat with a soft cloth on clean, dry leather. 
Usage: Once every two weeks depending on your usage.
Customers who bought this product also bought: