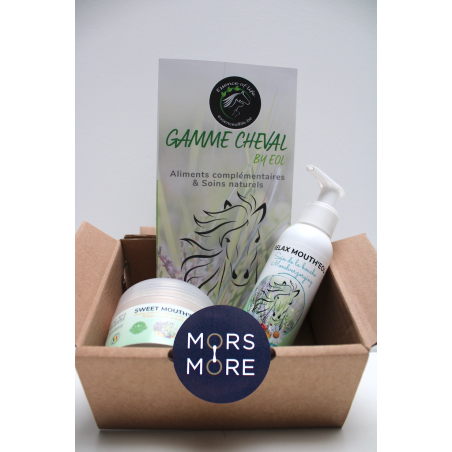  
Here is a box "sensitive mouth" composed of two care products specially designed for horses with a sensitive mouth, tending to hurt or having difficulty relaxing. Two essential products in case of injury, of natural origin and made with love! 
- Mouth'Eol balm
A balm intended for irritated lips, damaged corners, horses with light coats and sensitive skin, when there are scars or for daily preventive use. This balm has a healing and strengthening effect. The synergy of the different components makes this balm very interesting. Please read its composition below. Sweet Mouth'eol will quickly restore dry and cracked areas of the horse's mouth. It will also encourage the acceptance of the bit and will help the healing process. It is therefore important to apply it in case of injury before biting.
Use : Before or after each session. 1 to 2 times per day. 
Composition : To be found on the product sheet of the balm. 
- Mouth'Eol relaxing gel 
Cleaning product for your bits, leaving a small pleasant taste on the bit so that your horse to what seduces him when we put the bit. It is an ideal product for the maintenance of your bits to preserve them longer. Mouthpieces, full of saliva, grass and hay, are a nest for the development of bacteria and various germs that will disturb the microbiota of the oral region and cause possible infections. In addition, a dirty bit can cause the horse to refuse the bit. The bit may lose its mobility and the alloy used in its manufacture may also deteriorate. The new Relaxmouth'EOL will allow a gentle and above all natural cleaning of your horse's mouthpiece. Its texture and taste give it an incomparable advantage as it will help the acceptance of the bit and the relaxation of the horse's mouth. The use of the cleaning gel is very useful for a young horse, a working horse with a more or less damaged mouth.
Use : Rinse the bit after each use, apply a thin layer of Relax Mouth'EOL and massage with a clean cloth. Easy to use thanks to the measuring device.
Composition : To be found on the product sheet of the relax. 
Frequently purchased together