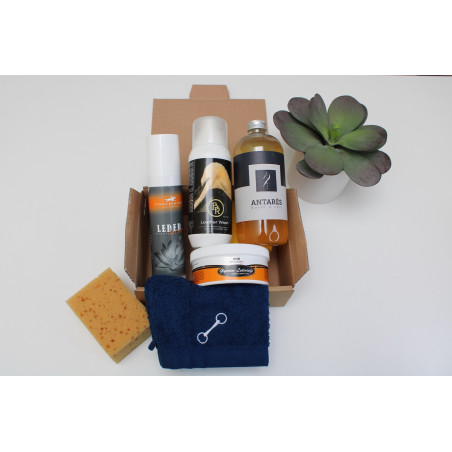  
Here is a selection of cleaning products for the cleaning of your high end leathers.
You will find in this box: 
- Antares Oil 250ml
- Schockemöhle Lotion 200ml
- Stübben glycerine soap 250g
- BR Cleaner 300ml
- Sponge
- M&M washcloth
In order to preserve your bridle over time, it is essential to take care of it. The life of the leather is prolonged if it is well maintained and stored in a dry place. First, we recommend that you oil your bridles before their first use to soften and waterproof the leather. Then we advise you to clean your leathers regularly with a glycerine soap and to nourish them with a nourishing balm (once every 1 to 2 weeks depending on your use). One oiling per year is necessary, to be repeated if your leather is not flexible enough.
Oil application : Apply a thick and uniform layer on the clean leather with a brush or a dry cloth and let it work well. If necessary repeat the treatment several times until the leather is saturated. Carefully treat seams and cut edges, then buff leather with a soft, dry, clean cloth. Shake well before use. For external use only. 
Use: Before first use of new leather, repeat once a year depending on your use. 
Application Lotion Care: Apply a thin even layer with a soft cloth on clean and dry leather;
Use: Once every 1 to 2 weeks depending on your use.
Soap Application : Clean the leather with the soap using a damp sponge. Wipe off the excess with a clean cloth.  
Use: Once a week depending on your use.
Application BR Cleaner : Washing machine or hand wash (see more details on the product sheet)